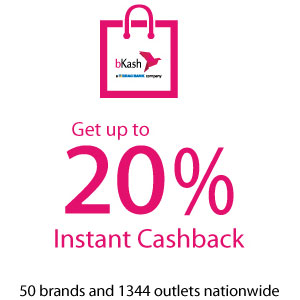 This Eid bKash your Payment and get upto 20% instant Cashback in 1344 outlets of 50 brands nationwide.
Details:
You can get Cashback upon making Payment at specified stores of participating merchants.
To enjoy this offer make Payment from your own bKash Account.
In case the bonus disbursement fails due to technical or bKash Account status related problem, bKash will retry to give Cashback thrice in next 2 months in regular interval after the campaign ends. If all attempt fails, customer will no longer be entitled for the bonus amount of this particular campaign.
bKash reserves the right to cancel Cashback payout if the particular transaction and/or the customer transaction behavior raises reasonable suspicion that the customer has abused the benefit of the Cashback offer.
bKash reserves the right to change/modify campaign terms & conditions in any manner or cancel the entire campaign at any time without giving any prior notice.
The offer will be valid from August 10, 2017 till Eid day 2017.



Cashback Limit:
Merchant Category
Max. Cashback per transaction
Max. Cashback
Lifestyle, Foot ware and Electronics
Tk 500
Tk 2000
Online store and Market place
Tk 300
Super store
Tk 300
Tk 500
During the campaign you can get up to Tk. 2500 Cashback in a bKash Account.